| | |
| --- | --- |
| | april 11, 2020 newsletter |
The Coalition Against Trans Antagonism's work is conducted on the ancestral and unceded territory of the Coast Salish peoples, which include the xʷməθkwəy̓əm, Sḵwx̱wú7mesh, & Səl̓ílwətaɁɬ nations (colonially known as vancouver, canada).
CATA seeks to work in solidarity with Indigenous peoples in the struggle for autonomy and self-determination. we understand the gender binary is a colonial construct and affirm the diversity of gender identity and gender expression of people around the world, especially those who are reclaiming identities and roles lost, erased, and vilified due to colonization.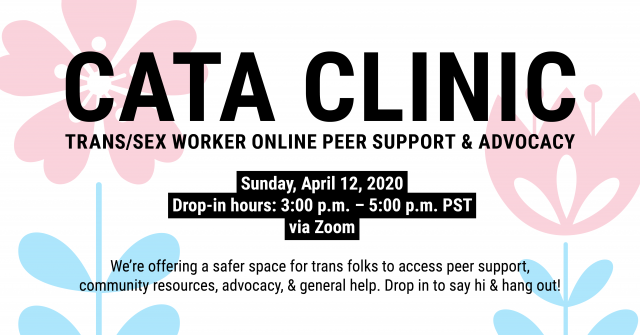 drop-in at the CATA Clinic & say hi

before COVID-19, and in the early stages of CATA, we had been hosting Trans Community Town Halls almost monthly. in these meetings, it became evident that there was a great need for more opportunities for us to share space with other trans folks, ask for and offer support, and build community.

as a grassroots group without our own physical space (we are in vancouver, after all), we considered what this could look like, which included the idea of hosting pop-up clinics around the city. unfortunately, our energy was diverted to organizing against white supremacist, TERF/SWERF events throughout 2019. thankfully, those assholes can't host gatherings right now 🙂 so we can finally focus on better things!

tomorrow, we are offering a safer space for trans folks to access peer support, community resources, advocacy, or any general help folks may need – in this current time of crisis and beyond. trans folks & their loved ones are warmly invited to drop-in to say hi and hang out!

Sunday, April 12th, 2020
drop-in hours: 3:00pm – 5:00pm PST
via Zoom
click here for the facebook event page, click 'going', invite your friends, & reshare!
to the join the clinic (on Sunday!): use your web browser or download the Zoom app on your preferred device and click here to enter.

meeting ID: 233 808 194

dial by your location
         +1 587 328 1099 Canada
       +1 647 374 4685 Canada
         +1 647 558 0588 Canada
         +1 778 907 2071 Canada
         +1 438 809 7799 Canada
         +1 646 558 8656 US (New York)
         +1 720 707 2699 US (Denver)
         +1 253 215 8782 US
         +1 301 715 8592 US
         +1 312 626 6799 US (Chicago)
         +1 346 248 7799 US (Houston)
safer space guidelines:
this event is a safer space. we recognize that oppression exists everywhere, and that we cannot guarantee safe spaces, only that we can make them safer by recognizing, understanding, challenging, and transforming oppressive ideas and behaviours. this includes, and is not limited to, racism, classism, ableism, cissexism, heterosexism, ageism, sexism, and sizeism.
participants are encouraged to give care to themselves and engage in this space in ways that works for them; no one expects folks to do anything they don't want to do.
please understand that Zoom is known for security risks; use discretion and caution when sharing personal information.
this event is for all trans people, except for cops, media, and/or fascists.
this is not a space for parachuters or co-opters.
organizers are bound by the Mission, Vision & Basis of Unity of the Coalition Against Trans Antagonism and reserve the right to remove anyone who is disruptive, breaches the safer space guidelines, and/or creates an unsafe environment.
accessibility info:
ASL interpretation has not been secured for this event. if you would benefit from live captioning, please contact us ASAP by emailing: noterfsnoswerfs@pm.me.
for more information and/or to make accessibility requests, email us at noterfsnoswerfs@pm.me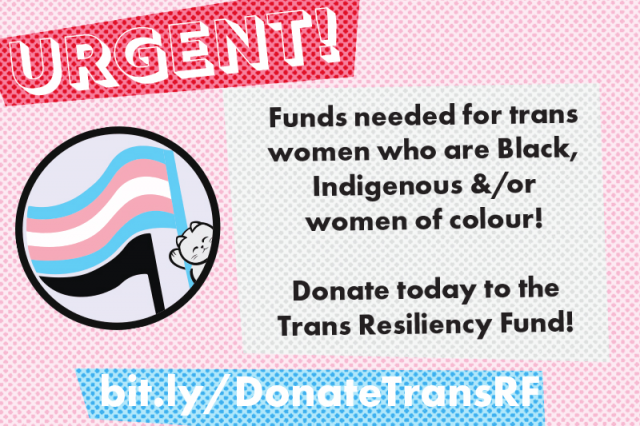 we're halfway to meeting our goal!

in over two weeks, we've been able to distribute $9,400 to 44 trans women and trans femmes of colour, offering micro-grants ranging between $100 – $300 USD and are working on supporting folks in finding alternative resources for their various needs. we've also hit some bumps with being locked out by paypal (which we are learning is a widespread issue affecting organizers in north america) resulting in delay for some folks receiving their payments. (note: paypal is corrupt by helping white supremacists fundraise while fucking over sex workers and other marginalized communities.)

we also launched a
gofundme campaign to aid in our efforts and are halfway in meeting our goal (some folks donated via e-transfer).
we're still fundraising in an effort to be able to top-up and/or partially fulfill remaining requests as well as future applications. included are fees to send money across borders for each transaction and exchange rates (unfortunately now is a terrible time to exchange currencies – it takes ~$150 CAD to send someone $100 USD). we've also identified trans-led organizations outside of north america who have indicated financial needs that we hope to support.

please consider donating – any amount helps – and sharing this with folks who you know have means.

to donate to the fund: send e-transfers to noterfsnoswerfs@pm.me or
via paypal or
through our gofundme (please note gofundme takes a cut for each donation).
applications are accepted on a rolling basis

if you are a trans person in need of assistance of any kind, please fill out this form to access the funding and/or resources. if you know someone who needs support, direct them to the Trans Resiliency Fund!

apply today/for more information:
bit.ly/TransRF
action alert!

help trans folks outs with a few keystrokes and clicks! (if only it were that simple.)
volunteers needed!
we're in need of volunteers who have skills in spreadsheets, research, and documentation – or who want to learn! volunteers will be identifying and collecting resources for trans people who have made non-monetary requests for support in the Trans Resiliency Fund.

email us! noterfsnoswerfs@pm.me
community news

NEW YORK –
Tributes pour in for pioneering transgender Latinx activist Lorena Borjas who has died from coronavirus

"Borjas, 60, was known as the mother of the trans Latinx community in Queens. As a survivor of human trafficking, she dedicated the past 30 years of her life to protecting other transgender victims of trafficking, slavery and violence."

"Lorena was one of the pioneer transgender advocates in the country, who helped thousand of undocumented people, sex workers, transgender people – and a mother to an entire community," wrote Samy Nemir Olivares of Lambda Legal.

"ALL this work for decades while speaking only Spanish. She founded the Lorena Borjas Community Fund and took hundreds of transgender people out of jails and detention centres – often with her own money.

TORONTO – Maggie's: Toronto Sex Workers Action Project & Butterfly Asian And Migrant Sex Workers' Network issue a statement regarding Rosie DiManno's April 6 Column "Sex Work During A Pandemic" in the Toronto Star

"DiManno masks misogyny and hostility toward sex workers in a facade of sympathy. DiManno takes a sensationalist and dehumanizing tone toward her subject, Lisa B, and ends the column by stating that "p—y" is "all [a sex working] woman has left."

please share this statement widely!

UNITED KINGDOM – Global Network of Sex Work Projects Joint Statement with UNAIDS:

"Sex worker-led organizations from all regions are reporting a lack of access to national social protection schemes and exclusion from emergency social protection measures being put in place for other workers, particularly where sex work is criminalized. Whenever and wherever possible, sex workers are responsibly self-isolating in response to governments' calls. However, when they are excluded from COVID-19 social protection responses, sex workers are faced with putting their safety, their health and their lives at increased risk just to survive.

NSWP and UNAIDS are furthermore concerned at reports of punitive crackdowns against sex workers, resulting in the raiding of homes, compulsory COVID-19 testing, arrest and threatened deportation of migrant sex workers."

read the rest by clicking here.

TAIWAN – Meet the Trans Woman Behind Taiwan's Successful Grassroots Coronavirus Initiatives

"Taiwan's Digital Minister Audrey Tang has spent years bridging these two sides. The self-described "conservative anarchist" is a civic hacker who, in 2016, was appointed as Taiwan's youngest official in a top government position. She also happens to be the only transgender minister."

"Taiwan was already known for being accepting of the LGBTQ community, even before legalising same-sex marriage in May 2019. But recognition of trans people like Tang has been slow, even within the queer community. This makes her position as a top government official all the more important."

this one is a bit pro-state/government – still, to read more click here.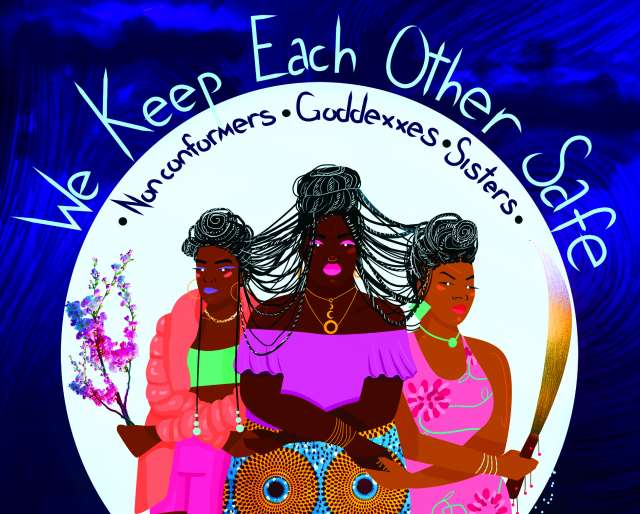 community resources

here are some resources that may be useful, as well as opportunities to provide mutual aid:
donate to & apply for PACE Society's Sex Worker Relief Fund – "If you are a sex worker who has been negatively impacted by COVID-19 and reside in Metro Vancouver, we welcome your application for funds. We prioritize distributing funds to people of colour, Indigenous people, transgender individuals, and members of other marginalized communities. Please honestly self-identify with any marginalized communities you are a part of so that we can distribute funds appropriately to those most in need. We will provide $100-200 based on need and availability of funds."
online support group for all LGBTQIA+ PoC folks hosted by The Gender Phluid Collective – this one has already passed, so email them if you'd like to stay in the loop about future sessions!

"GPC invites you to join us online. This is a hard time for all and GPC wants to be here for those in need of support or help at this cr*zy time. We will begin this Saturday April 4th at 6pm and will discuss additional groups if needed."
Disability Justice Culture Club invites you to brunch – Justice Brunch! "Featuring awesome disabled QTBIPOC presenters and engaging topics. Come share in a powerful experience while showing love and support to our community!"


Bianca I Laureano – "I F^#*ed Up! Here's What I Learned and How I Apologized" – Sunday, 4/12 @ 1pm
Neve Mazique – TBA – Sunday, 4/26 @ 1pm
Shanelle Jones – Safer Sex Work in the Pandemic – Sunday, 4/29 @ 1pm
Leah Lakshmi Piepzna-Samarasinha – "Care Work During Coronavirus" – Sunday, 5/3 @ 1pm
India Harville & JJ Omelagah – "If You Can Breathe, You Can Sing and Dance" – Sunday, 5/10 @ 1pm